Positano has to be lived. This tiny urban gem, nestled on the craggy Amalfi Coast, is world-famous for its characteristic coloured houses peaking out over the sea as if they were growing right out of the rock itself. Already well-known in the times of Ancient Rome, as shown by archeological finds in the surrounding area, Positano is one of those places that you have to visit at least once in a lifetime for a number of reasons. From Sorrento, it is easy to reach, only 40 kilometres away (for information, just ask at the reception desk of Hotel Mediterraneo).



Positano vista dal mare | Foto: falco, via Pixabay

The Romans chose Positano as a vacation destination for its particularly mild climate and its incredible view of the Gulf of Salerno. Among the relatively recent discoveries, there is an ancient and luxurious Roman villa from the second century B.C., found under the Church of Santa Maria Assunta. The latter is a key landmark in Positano, thanks to its bi-coloured majolica dome - yellow for the sun and green for the rich and unique local vegetation. From the X to XII Century, Positano was part of the Dukedom of Amalfi, but, over time, its autonomy grew and it became known for its tiny streets, mostly stairways, leading from the highest parts of the town down to the sea and its historic centre, which has great night-life, especially during the summer with concerts and traditional celebrations.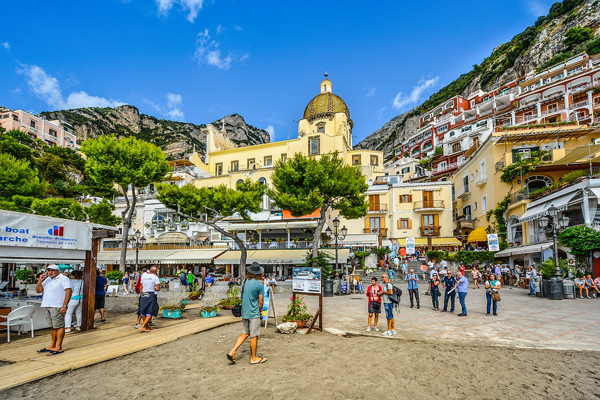 La Chiesa di Santa Maria Assunta a Positano vista dalla spiaggia | Foto: kirkandmimi, via Pixabay

In front of the town of Marina Grande along the coast, there is the Arcipelago of Li Galli, three tiny islands named Gallo Lungo, Rotonda and Dei Briganti. And speaking of the sea, there are numerous beaches in Positano, but some can only be found by exploring the coves along the coast by foot on a convenient stairway that runs the length of the shore, or by sea, such as the Beach of Fornillo. The main beach is the Spiaggia Grande, with its private and public beach clubs, where you find places like the Chiosco Bar Positano where you can sip a coffee or eat some gelato, or elegant restaurants like Buca di Bacco, the Saraceno d'Oro and the Ristorante Max with its paintings and statues that make it seem almost like a museum.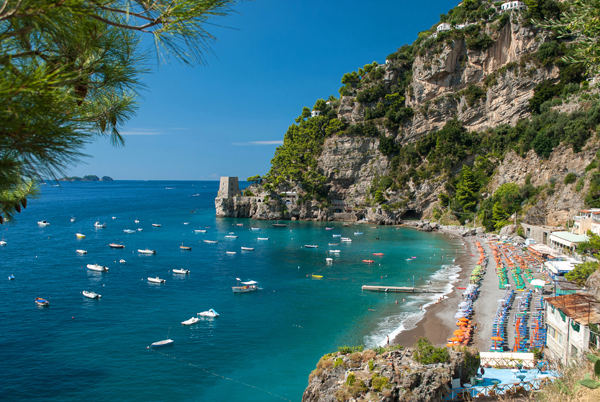 Positano, Fornillo Beach | Photo: Mihael Grmek (Own work), via Wikimedia Creative Commons
The streets, rich in the fragrances of lemons and flowers, are a dazzling explosion of colours, as well as local handwoven products and local sandal shops, some of which will even custom-build you a pair of the typical local leather sandals while you wait. Positano is also rich in art. In particular, the international gallery
Liquid Art System
, with a location in Capri as well, which, along with other local galleries, offers a journey through contemporary art with works created by important artists. Of course, Positano has always been a destination for the jet-set, and it's no surprise that Harry and Meghan chose to spend part of their honeymoon in Positano. With its incredible view of the gulf, the Florentine director Franco Zeffirelli often spent his vacations in Positano as well. In his opulent home,
Villa Tre Ville
, he hosted friends and colleagues from Hollywood and Cinecittà, from Maria Callas to Liz Taylor.
Artwork by Giacinto Bosco, Liquid Art System Positano | Photo: Jimmy Baikovicius, via flickr
---
© 2019 ARTE.it for Nozio Business