Tour of Amalfi Coast (excursions from Sorrento Hotel): Positano, Ravello, Emerald Grotto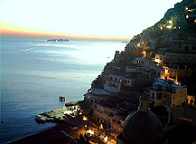 The Amalfi Coast is popular in the world for its beautiful panoramas. It's 50 kilometres of coastline characterized by a number of pretty towns built between the mountain and the sea.
The unforgettable views and natural beauties (fist of all the Emerald Grotto), the chance to have fabulous shopping (mostly clothes and ceramics), some unforgettable monuments (as the Amalfi Duomo and Villa Rufolo in Ravello), the possibility to taste the typical local gastronomy: all this is part of a visit to the Amalfi Coast!
Starting from Sorrento you will reach on the way the following towns: Positano, Praiano, Furore's fiord, Emerald Grotto, Conca dei Marini, Amalfi, Ravello, Maiori, Minori, Cetara, Erchie e Vietri. The street is one of the most spectacular of Italy and of the world.
You can visit the Amalfi coast easily bye private car or scooter, by public bus, by "metro" of the sea (public hydrofoil), by Ciitysightseen buses (just till Positano), with a group tour with guide or by a private car with driver (all bookable through the reception desk).
Concierge suggestions: Touring the Amalfi coast means to visit a number of popular town, to enjoy beautiful panoramas and to discover hidden places. The most beautiful part are the first 35km of coast, from Sorrento till Amalfi. For a complete visit a full day is necessary.
Best way to see the Costiera is by an hired scooter (to have no problem with the parking) or with a car with local English speaking driver who can also explain you what you are going to visit and the best places to see to please your personal desires.

Indietro