Vesuvius volcano excursion from Sorrento. Walking tour - Naturalistic excursion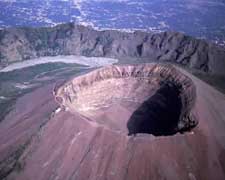 The mount Vesuvius is an active volcano 1250 metres high. It is popular for the eruption of 79 AC that destroyed Pompeii and Herculaneum. Last eruption was in 1944.
Nowadays it is a beautiful natural park. An excursion on the Vesuvius is a fascinating walking tour into the "macchia mediterranea", the typical vegetation of our area, till to the mouth of the Volcano. The rise is a little bit long and tiring, but with a comfortable pair of shoes it will be not too hard (250 m of height difference, about 70 minutes walking). From the top of Vesuvius you can enjoy a wonderful view of all the Gulf of Naples.

USEFUL INFORMATION
The excursion takes about half a day. You can reach the mount Vesuvius from Hotel Mediterraneo with a local train (station 7 minutes by foot, trains every 30 mins, it takes 45 minutes) till Herculaneum and then with the bus Herculaneum Vesuvius. From the Hotel by car it is around 45 minutes. It's possible to hire a car through the reception or to have a car with driver.

GROUP EXCURSION
Group excursions are available 3 days a week during the high season.

CONCIERGE SUGGESTION
Vesuvio excursion is a naturalistic walking tour. We suggest a group tour with a naturalistic guide. Full day excursion is also available and it combines Pompeii with Vesuvius, history and nature. This excursion is not suitable for people with moving problems.
Back