Activities at Hotel Mediterraneo Sorrento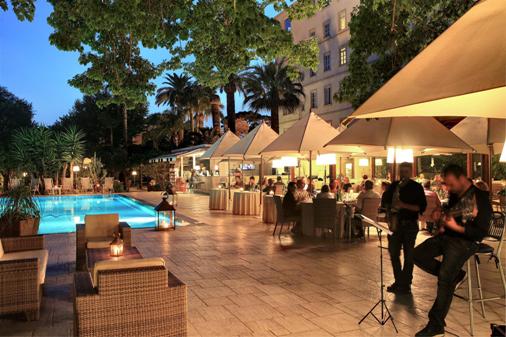 Hotel Mediterraneo organizes for its guests and for external customers who like to join us a range of activities focused on music and typical cousine/drinks. Events follow a weekly program and are set in different abd suggestive property locations.




Monday 7:30 pm to 10:00 pm: Gala dinner with live piano music at panoramic Roof Restaurant Vesuvio. Elegance is served!
Tuesday 7:30 pm to 10:00 pm: al fresco dinner buffet with meat BBQ and soft jazz at Aqua Pool Lounge. Unique atmosphere! (June - September)
Thursday 8:00 pm to 11:30 pm: live music by the pool at Aqua Pool Bar: cocktails and dancing! (June - September)
Friday 6:30 pm to 8:30 pm: Aperipiano with spumante Dubl by Feudi di San Gregorio in the beautiful and cool White Bar. Bubbles and amazing sunsets!
Saturday 7:30 pm to 10:00 pm: al fresco dinner buffet with fish BBQ at Aqua Pool Lunge. A smart Saturday night far from crowd! (June - September)
Sunday 6:30 pm to 8:30 pm: Happy hour DJ set at Aqua Pool Bar: signature cocktails, deep house music and appetizers ... the Mediterraneo becomes trendy! (June - September)

Program may be subject to changes. We warmly suggest to book in advance.

info & resrvations:
restaurants@mediterraneosorrento.com
+390818781352
Indietro