Napoli excursion from Hotel Sorrento: group and private tours. Main attractions and monuments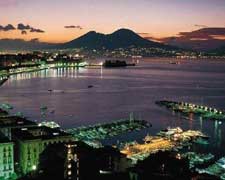 Napoli is a particular and amazing city. There are a lot of monumental beauties as well as a lot of hidden attractions. It's easy to find in a narrow street a wonderful church where is possible to see the stratification of the various architectonic styles that followed one to the other.
In Naples there are two different areas of interest to visit: the historical centre and Chiaia.
Chiaia is a quarter that begins from the harbour and holds some of the most important monuments of the city: the castle "Castel Nuovo", the Royal palace with its garden, Plebiscito square the biggest in Naples, The Castle "Castel dell" Ovo, built on an little island in a strategic point, the liberty style gallery Umberto I and the main shopping streets (Via dei Mille and Via Calabritto).
The historical centre is the other area that a visitor should see. You can still walk on the streets built on the original Greek project. Here you can find the most characteristic beauties of Naples and you can breath the atmosphere that makes Naples one of the most particular cities in Italy. Main attractions here are: Santa Chiara church with its cloister, San Lorenzo Maggiore church, San Gregorio Armeno (the "presepe" street), the ancient underground Naples and the National museum.
Other attractions in different areas are: The ceramics museum in Capodimonte, the castel Sant" Elmo and San Martino convent (with a wonderful view of the city), Posillipo area with the amazing Virginians gardens, the public gardens with the town aquarium.

Naples is reachable from Sorrento by car or train in about 1 hour (the train station is 700 mts far from the Hotel) or by hydrofoil in about 40 minutes. Group tours with guide are available to the reception desk.
Concierge suggests: Naples is a very beautiful city but unfortunately a bit dangerous. Is better to do not go to the station area, so we suggest to reach the city by hydrofoil (close to the harbour there are a lot of monuments to visit). A complete tour of the city requires 1 full day or even 2.
Better way to do it is with a private guide that can chose for you the most significant attractions paying attention to stay away from the dangerous areas. The guide will be also useful to help you to use the public transportation system that is not clear in the organization.

Indietro