Holy Easter processions in Sorrento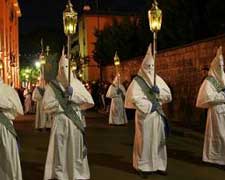 To spend Easter in Sorrento also means to enjoy the amazing views of the traditional holy processions.
The processions are organized by the various brotherhoods of the parishes of the Sorrentine Peninsula in the evenings before Easter (holy Wednesday, Thursday, Friday).
Men hooded and dressed in red, white or black (depending on thecongregation and of the day) parade in the dark streets of the town.
They remember the last moments of the Passion carrying the symbols of Christ's Crucifixion and death and singing the Miserere.
A truly unique experience to live in a mystical atmosphere.

The Hotel Mediterraneo enjoys a privileged position that places him along the route of some of the processions of Sant'Agnello and close to route of many others.
If you want to watch the processions and spend Easter in Sorrento take advantage of the special Easter offer .
Click on the link below and save money!
Indietro